Kansas Real Estate Sales Down, Home Prices Remain Strong
Published on March 20, 2019 by Marie McCarthy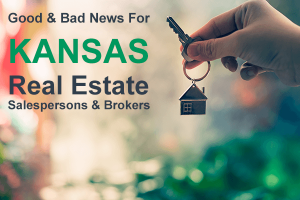 Overall real estate sales have decreased and prices remain stable in 2019, according to new data from the Kansas Association of Realtors.
Home Sales
The most recently available statistics from January show that home sales in the sunflower state are down 8.2 percent compared to January 2018. These numbers mirror national trend: American home sales across the board are down 8.5 percent over 2018.
Home Prices
The good news: Kansas home prices are stable and in some cases, increasing. The average sale price in January was $200,772. Home prices are generally increasing across the Midwest and country.
Listings
The number of active listings is also increasing. There were 9,828 Kansas listings in January, up 2.3 percent from the same time last year.
Days on the Market
The number of days on the market is growing smaller. The average Kansas home was up for sale 66 days, a decrease compared to last year.
Mortgage Rates
Rates have been dipping even lower recently, according to FreddieMac.com.
On average, the commitment rate on a 30-year conventional mortgage was 4.41 percent across the country, as of March 6, 2019.
That percentage is 3.83 percent on 15-year FRM rates
Finally, 5/1-year ARM mortgages have a 3.87 percent commitment rate.
FreddieMac.com says that in late 2018, mortgage rates rose over a full percentage point compared to 2017, which is what caused a delay in home sales in the first few weeks of the new year.