Click the Book for a Downloadable PDF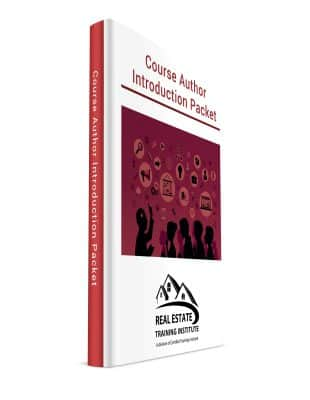 Real Estate Training Institute is looking for instructors/presenters for our online school. If you have experience working in the real estate industry and a passion for teaching others, we want to hear from you! Online training is one of the fastest growing industries in the country, with more individuals and businesses choosing courses that will fit around their busy schedules. Real Estate Training Institute has the experience necessary to translate your training to the digital world. Our production team has a specialized sound-proof studio for filming your training material and state of the art editing technology to make your course look world class. Plus, you will have access to our marketing team that specializes in getting your course in front of all the people who need the training.
Benefits to becoming part of our instructor/presenter team
Opportunity to create course materials.
Option for bulk payment or passive income.
Nationwide name recognition in your field.
Real Estate Training Institute is a division of Certified Training Institute, a proven leader in online license and certification training. Our school has been providing trades classes since 1999 and currently offers nationwide HD video courses for plumbers, contractors, architects, real estate salespeople and brokers, and agricultural workers. All of our courses are created by industry leaders and tailored to the specific needs of the licensees. From pre-license and exam prep training to help folks start their careers to interesting, modern continuing education or business development programs for established trade professionals. We have the courses for every stage of a person's career.
As an instructor for our school, you will gain national recognition as an expert in your field, as well as, a new consistent revenue stream that can last for years or even decades. Many of our instructors began teaching their certification class in conference rooms, community colleges or VFW halls and now their courses are available nationwide at the click of a button. Don't let this once in a lifetime opportunity pass you by!